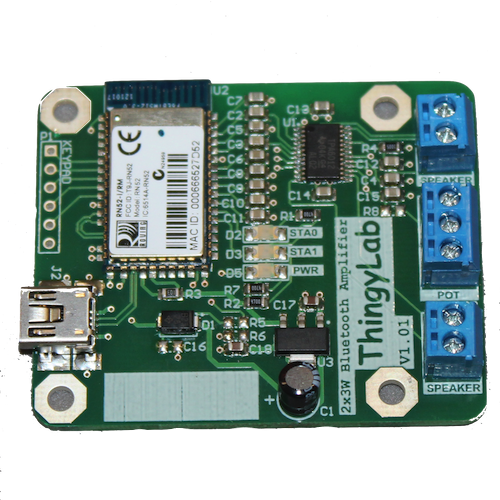 Bluetooth Audio Amplifier 2x3W
$46.00
Bluetooth Audio Amplifier
Our best amplifier yet! This bluetooth audio amplifier is incredibly easy to use, and provides a great sound.
The stereo 2x3W audio amplifier can stream audio from your laptop, phone, iPod, or any other bluetooth enabled audio source!
It can be easily wired to drive a single speaker, or dual speakers.
Installation is easier than ever!  Check out this this quick installation guide.
Features:
Powered from 5VDC USB supply
Screw terminals for connecting speaker and external volume adjustment potentiometer
High quality (44.1KHz/16 bit) stereo output
Optional external play control buttons. (Play, Stop, Forward, Reverse & Volume)
Dual or single speaker operation
Requires:
5VDC Power USB Supply
Up to 2 Speakers
For a Non Bluetooth, version of this amplifier see the Stereo Amplifier